Most of the big players in the USA who were initially planning on providing fuel cells for residential homes have either gone out of business or shifted to selling products for Telecom backup.  It's simply easier and more cost effective for them to sell thousands of units to a single customer who has established maintenance infrastructure than to sell a single unit to 1,000 individuals who may not be as rigorous on installation and maintenance.  This means that if you are a single home who wants to either go off-grid or partially off-grid with a fuel cell, you essentially have to build it yourself at the moment or we can assist you with putting together a one-off system.  Since there isn't a commercially available option, custom systems can cost $35,000 – $100,000+.  The fuel cell industry changes so frequently, if there is a provider for residential fuel cells out there currently delivering actual products, please leave a comment and a link or email us.
By the way, we work primarily with PEM fuel cells so this article will mostly be addressing those.
Hydrogen Supply
First off, you will need a supply of Hydrogen to fuel your Fuel Cell.  Depending on your goal, you can get this in several different ways: delivered hydrogen (e.g. tube trailers, cylinders, etc), on-site generated (e.g. electrolyzer) or reformed.
Delivered – This is pretty straight forward.  You pay someone and they bring you Hydrogen, typically in either a tube trailer, 6-pack of gas cylinders, etc.  This would be common for emergency backup type of systems where the system isn't consuming hydrogen continuously and is only used periodically or in emergencies.  This would not be uncommon for the Telecom backup systems since they typically are only turned on briefly once a month for testing and only need enough hydrogen on-site to run for several hours in case of loss of primary power.
On-site Generated – This would be the most renewable option and is typical for fully and partially off-grid applications.  In this case you would take power when it's available and use it to generate hydrogen by electrolyzing (splitting) water.  This Hydrogen is then stored for periods when you do not have power available.  A common scenario might be if you have solar you may use excess solar power during the day to generate hydrogen, then when the sun goes down or on a cloudy day you can consume the hydrogen you generated previously to generate electricity in your fuel cell.
Reformed – This is a process for taking hydrocarbons (typically Natural Gas [NG], Propane, etc) and reforming it in a combustion chamber to produce hydrogen gas.  For use in a PEM fuel cell the hydrogen would need to be purified.
Hydrogen Storage
Once you have your hydrogen, you often will want to store it.  How much hydrogen you want to store will depend on how much power you need (and the hydrogen consumption rate at that power) and how long you need that power.  In the solar example above, if you assume that you will be generating excess electricity from solar for 8 hours a day and that you will consume 2 kW for the other 16 hrs you will need:
26 LPM Hydrogen (from the 2 kW FC Specifications) * 60 min/hr * 16 hrs/day = 24,960 L per day.
Assuming you will be consuming the full 2 kW the entire time.  If you operate at less than 2 kW you will obviously consume less fuel.
This is the equivalent to approximately (5) K sized bottles of Hydrogen.  Not unmanageable.
You can also store at much higher volumetric densities using metal hydrides.  These will be more expensive, but if space is a concern it may be worth it.
The Fuel Cell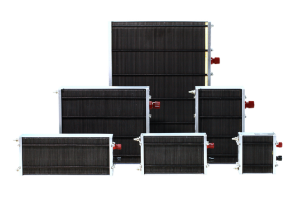 Now we get to the heart of the system, the fuel cell.  This is actually not that complicated either.  You can purchase a fuel cell stack that has basic system and controls and outputs a variable level DC that can then be converted to AC for your home (see next section).  Please note that these fuel cells will not operate below freezing.
We can spend a little more effort in this section speaking about how big of a fuel cell you need.  For homes, the rough approach is to take your monthly utility bill with your monthly energy usage in kWh and divide that number by the number of hours in a month.  For example, if you were billed for 909 kWh in a typical 30 day month (the US average, according to US Energy Information) that would be:
909 kWh / 30 days / 24 hrs/day = 1.26 kW
Note: this is the average power consumption of the home over the month and does not represent the amount of power your home draws at any given time.  For example, during periods when the air conditioner, heater, microwave, hair dryer, etc is operating you may consume significantly more than this.  When it shuts down you will consume much less.  If you are operating a grid-tie system, then you are probably good to size for the average consumption.  During periods of high demand you will use extra power from the grid while during lower usage time you could put power into the grid, giving you a net zero energy usage (how you're billed/credited will vary with your local and state regulations).
If you are working to be completely off-grid with no connection at all, you will need to analyze your actual expected loads at any given time a little closer and be sure that your system can handle the larger sustained loads (e.g. while the AC/Heat is on) as well as any transient loads (e.g. the very short spike that occurs when motors or compressors first come on – this can often be taken up with a small battery bank).  One way to do this is to just make a list of all of your loads and start adding them up.  The more advanced method would be to use some of the home power monitoring products to get a map of your power usage over time.
Connecting to your Home
This can be a little more complicated.  If you are 100% off the grid and do not have any connection to the local power grid you can use a standard inverter.  If you are connected to the grid you will need to use a "grid tie" inverter.  This matches the AC output with the grid AC so that it is in-sync and doesn't cause any damage to the equipment/grid/etc.  These are more expensive.
General Safety: Remember to take care in working with flammable gas of any kind.  While Hydrogen actually has many characteristics that make it safer than gasoline (e.g. it disperses more rapidly, has a narrower flammability limit, etc) it is still dangerous.  Especially since it is typically in compressed form and so exhibits all the safety concerns of any compressed gas.  Be sure to include hydrogen sensors in any enclosures which will trigger safe shut down and that everything is proper ventilated, etc.  As with any potentially dangerous chemical or device: If you don't understand working with Hydrogen, don't do it.